JET SMART starts operations on a new direct route between Santiago and Bogota
---
With this route and with the already operational flight to Cali, JetSMART becomes the first low-cost airline to connect Santiago with the Colombian capital directly. The route will have three weekly frequencies during high season and two during the year.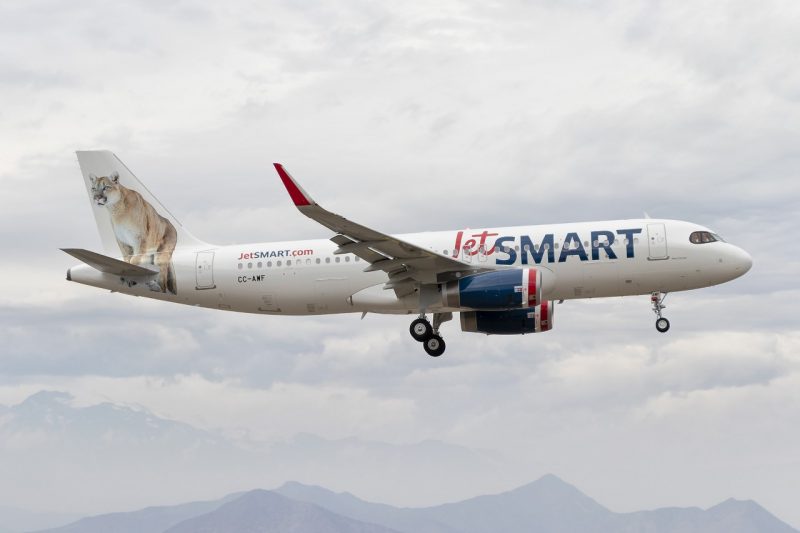 JetSMART flew its new Santiago-Bogotá route for the first time. With this milestone, the airline becomes the first low-cost airline to link the Chilean capital with its Colombian counterpart, directly and at permanently low prices.
"We continue to expand JetSMART's route network throughout the region, now proudly arriving on our inaugural flight from Santiago to Bogota. Our state-of-the-art Airbus A320 fleet in the Americas offers ultra-low prices. This allows us to connect all Chileans and Colombians by improving tourism, connectivity, and access to air travel in the ultra-low-cost model by flying SMART," as stated by Estuardo Ortiz, JetSMART's CEO.
Regarding the new route, flights will start at $49,000 per leg plus boarding fees and taxes (approximately $82,000 in total per leg). They will have two weekly frequencies during the year and three during the high season, operating on Tuesdays, Thursdays, and Saturdays.
With this new opening to the Brazilian market, JetSMART totals eleven international routes: Santiago-Buenos Aires, Santiago-Lima, Santiago-Trujillo, Santiago-Arequipa, Santiago-Cali, Santiago-Bogotá, Santiago-Salvador de Bahía, Santiago-Foz de Iguazú, Santiago-Sao Paulo, Antofagasta-Lima and Concepción-Lima.
New, efficient and safe aircraft
JetSMART Airlines is the South American ultra-low-cost airline, founded by the North American investment fund Indigo Partners, which operates the most modern Airbus fleet in the Americas, with operations in Chile, Argentina, Peru, Brazil, and Colombia. JetSMART's vision is to offer ultra-low fares throughout South America, with a clear goal of 100 aircraft and 100 million passengers by 2026.
JetSMART has a transparent and straightforward offer: the ticket includes only the random seat transfer with a handbag, which means moving from point A to point B at the lowest possible price, on time, reliable and safe. Therefore, the passenger pays only for what he needs for his trip. During each stage of the ticket purchase process, and optional item costs are clearly disclosed. The
earlier you purchase, the lower the price, and today we have the lowest baggage costs in the industry.
---