New recognition for Chile: international campaign video wins major tourist production festival
---
Every year the Terres Travel Festival highlights productions that encourage traveling. This time they awarded the Welcome to Adventure Tourism campaign video.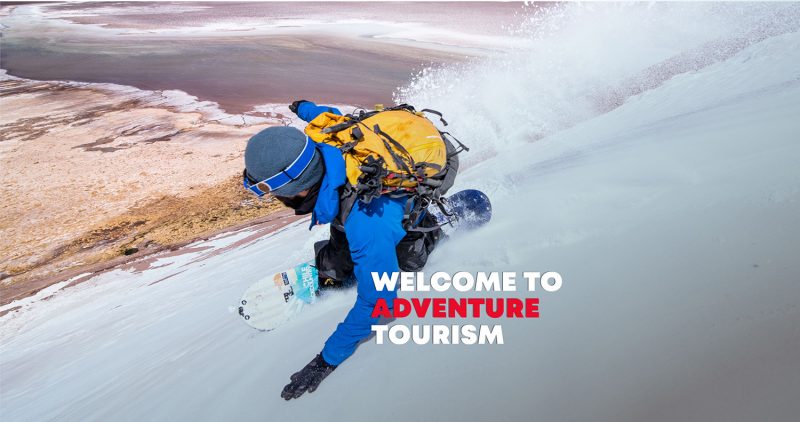 Our country's tourism obtained a new international recognition.  The 2020 Welcome to Adventure Tourism campaign video won first place in Tourism Destination category in the prestigious Terres Travel Festival, which highlights productions countries make to encourage traveling to their destinations.
The national production awarded on this occasion was a joint production of Sernatur, the Undersecretary of Tourism, Chile Brand, and the Ministry of Sport.  The video, produced within the Welcome to Adventure Tourism campaign, aimed at promoting sports tourism in international countries prioritized by the institutions.
The Minister of Sport, Cecilia Perez, highlighted that "athletes travel the world representing Chile and are also great ambassadors.  That is why it is a great joy to know that the Welcome to Adventure Tourism campaign, which they so proudly led, was awarded this important international recognition.  As Ministry of Sport we are grateful for the support of swimmer Bárbara Hernández, cyclist Paola Muñoz, bodyboarder Valentina Díaz, surfer Cristián Merello, motorcycle rider Francisco López, and skier Henrik Von Appen".
José Luis Uriarte, Undersecretary of Tourism, pointed out that "this award allows us to continue positioning ourselves as a tourist destination and show everyone the wonders of our country, not only sports tourism, but all the experiences that Chile can offer.  When we manage to overcome the pandemic that affects us today, experiences in open spaces, in contact with nature, will be one of the travelers' requirements and on that level, Chile has a great potential that we will continue to promote".
Andrea Wolleter, National Director of Sernatur, said that this recognition "fills us with pride.  When talking about adventure tourism anywhere in the world, our country is among the first places, thanks to the advantages of our territory, and winning this audiovisual festival continues to keep us in the minds of tourists who will return to live new experiences and adventures in Chile."
The executive director of Fundación Imagen de Chile, Constanza Cea, stressed that "this award reinforces our country's position as one of the world's main adventure tourism destinations.  In Chile we have the best natural environments for sports and adventure tourism.  An outstanding land that adds to the talent to develop the infrastructure and services to guarantee a unique experience".
Welcome to Adventure Tourism
The Welcome to Adventure Tourism campaign video was launched in January of this year to promote our rich and diverse geography through sports.  The production included great ambassadors of Chile, sportspeople who travel the world and who, together with our unique nature, managed to show the best of the country.
It is worth noting that Chile has been recognized for four consecutive times as the Best Adventure Tourism Destination in the world and five times in South America at the World Travel Awards, an award to which we are also nominated this year.  For this reason, the Welcome to Adventure Tourism video looked for a way to exploit that facet that makes us a proud nation.
---