Susana García Mamani: Aymara Tourism with a Woman's Face
---
Born and raised in the town of Pisiga Centro (Colchane), Susana began as an artisan weaver. Years later, she bought a van on credit and created "Andino Travel," a tourism company that joined with localities in Colchane to make the Aymara culture public.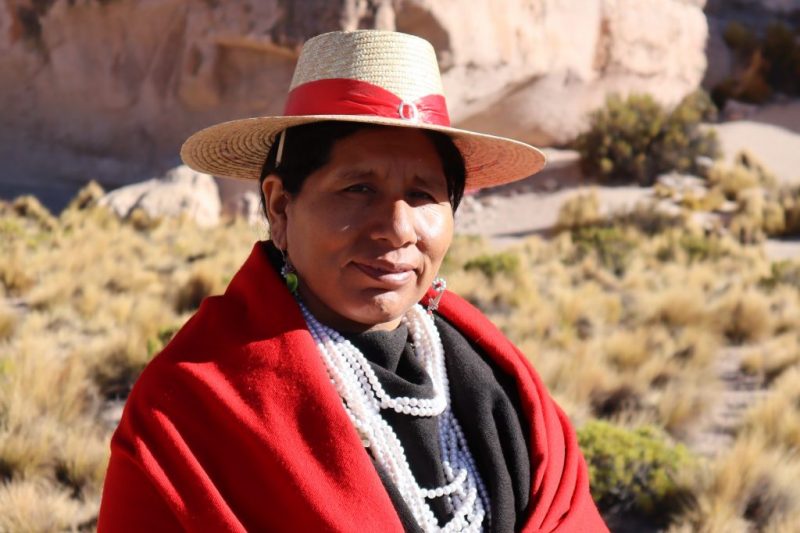 It's 5 a.m., and Susana García Mamani is waiting for passengers at a hotel in Iquique. She is the founder and administrator of "Andino Travel," an agency that offers experiences focused on Aymara culture.
The trip lasts 3 hours, and while the passengers sleep, the woman takes them through the altiplano in the Tarapacá Region, an area where the ancestral culture is still alive. "We offer a different kind of tourism. We offer an experience-based tourism on ancestral traditions…and what is better than being told by us, the Aymara," she says.
Born and raised in the town of Pisiga Centro (Colchane), Susana García began as an entrepreneur and artisan weaver. Along with other Aymara women, she created the company Layra Sawuri over five years until she decided to foray into tourism. She bought a van on credit and began to create a support chain with entrepreneurs from Colchane and localities in the altiplano, allowing her to offer experiences that include work crafts, breakfasts, lunches, and landscapes; everything focuses on the ancestral traditions.
This venture allowed her to be recognized twice by the Regional SERNATUR Directorate in Tarapacá with the Tourism Business Woman Contest. She was highlighted as a businesswoman of rural tourism in 2020 and 2022 for her contribution through Aymara culture. "As an Aymara woman, for me, it has been essential to study and prepare with a clear objective. Even my eldest daughter, who is a Spanish and English translator, also works with me," she told SERNATUR in 2022.
Quinoa, feminine experience, and strength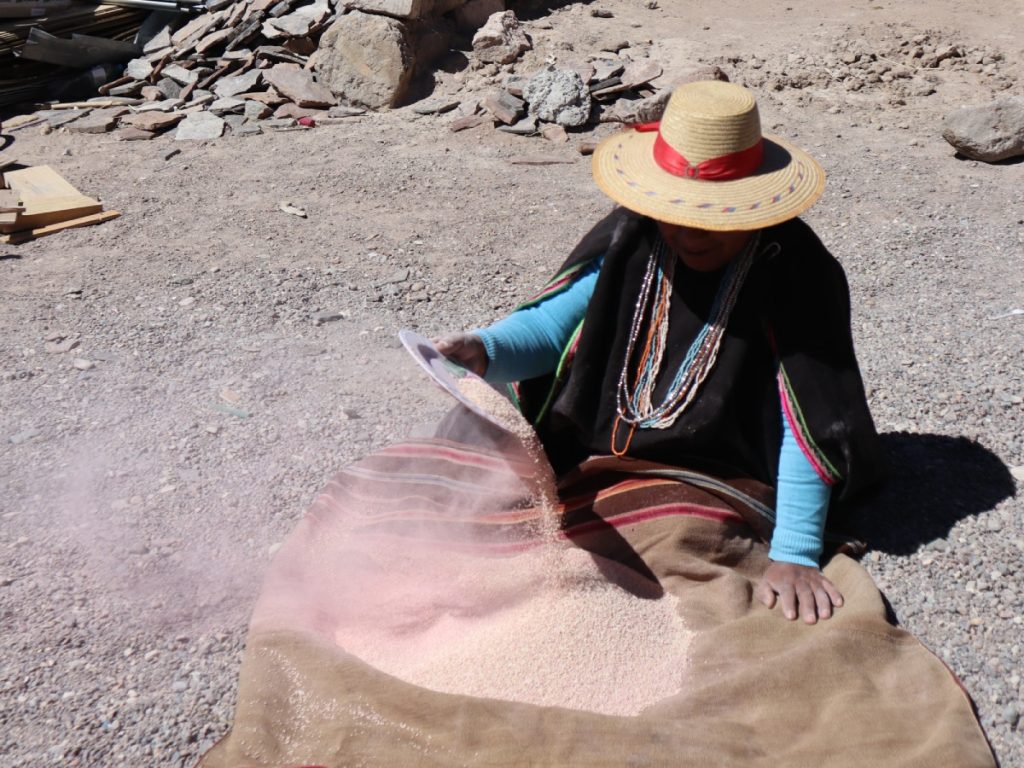 After three hours traveling, Susana announces the first stop the Valley of Happiness (Valle de la Felicidad), a rocky formation that, according to her ancestors, has an irrefutable resemblance to a part of the human body. Shortly after, the tourists arrive in an Aymara community to have breakfast with quinoa fritter, a cereal that is produced in the area and that represents the family income in the area. Today, this work is also part of the tourist experience that Susana offers.
With a recently burning fire, Teófila Challapa teaches the group of tourists the steps to toast quinoa. After the explanation, she tests out the tourists, with all hands and feet on deck. After the demonstration, the visitors are invited to replicate the process, making their own toast.
Teófila is one of the women who works with Susana, an important person in tourism. "The power that we have is huge to overcome the most insurmountable obstacles that life put before us," Susana stated in 2022 regarding the importance of women in tourism. In addition, this area has an Aymara face, which must fight against prejudice.
"Women are without a doubt the most determined in everything that they propose to themselves, mainly in this area (indigenous tourism), since through tourism we make our traditions and culture public," Susana concludes.
---
Aymara Susana García Mamani