VOTE FOR CHILE: THE COUNTRY SEEKS TO BE CROWNED THE LEADING TOURIST ATTRACTION IN THE WORLD
---
If Chile wins, the country will re-validate its Leading Adventure Tourist Attraction, Leading Green Destination and Best Romantic Destination titles. Voting is open through October 25th at www.worldtravelawards.com/vote.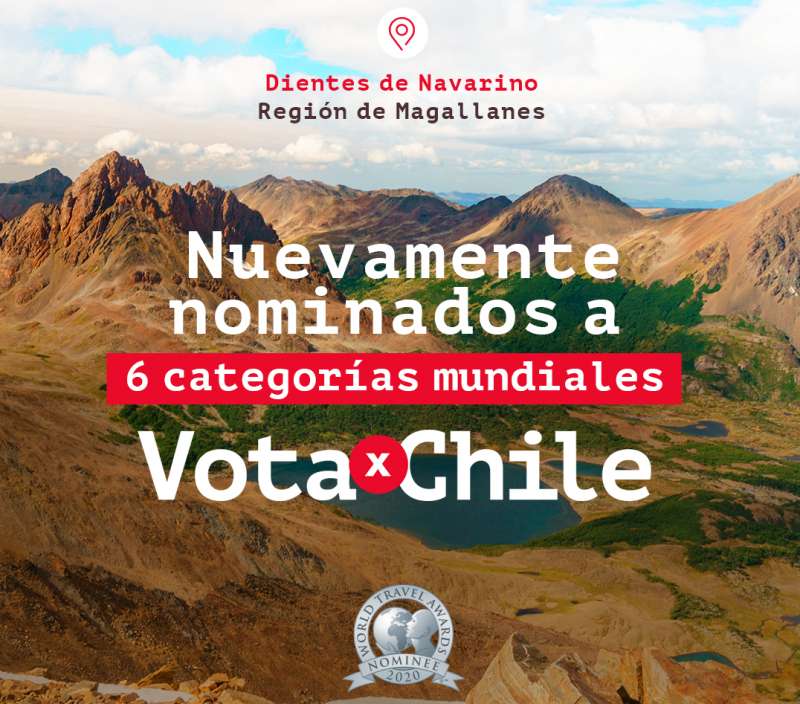 Once again, Chile leads the nominations for 'Oscar of Tourism' awards, the World Travel Awards, which award the world's main tourist attractions through popular vote.  This time, our country is competing to ratify the categories of adventure tourism, green destination and romantic destination, the Atacama Desert.  Additionally, this year our country includes a new nomination joining for the first time the category Leading Tourist Destination of the world.
Voting for the World Travel Awards global competition is open through Sunday, October 25th at www.worldtravelawards.com/vote.
José Luis Uriarte, Undersecretary of Tourism, pointed out that these nominations "are very good news for the country and a very good sign regarding Chile's great potential as a tourist attraction to reactivate this important economic sector once health conditions allow it.  For the first time we are nominated as the Best Tourist Destination in the World, so the invitation we make is to vote for our country and continue showing the world all the wonders we have to offer."
For her part, the national director of Sernatur, Andrea Wolleter, highlighted the fact that obtaining these new awards will position Chile even more in the international arena, since "the new post-pandemic tourist will demand experiences associated with nature and outdoor activities.  In that aspect, our territory allows the development of a new tourism that considers health safety measures, which will be our best presentation card when domestic tourism is reactivated."
Vote for Chile at the World Travel Awards
In view of these new nominations, the Undersecretary of Tourism and Sernatur will continue with their campaign #VotaPorChile efforts on social networks to maintain the country's leadership at global level and remind Chileans and foreigners the natural benefits that Chile offers.
In total, this year Chile was nominated in six categories at the World Travel Awards: Leading Adventure Tourism Destination, which we have won in the last four years; Best Green Destination, which we won in 2019; Most Romantic Destination for the Atacama Desert, which we won in the last two years; in addition to Leading Destination of 2020, Leading Nature Destination, and Leading Festivals and Events Destination for the city of Santiago.
The invitation from the authorities reinforces the call to make travel in Chile a plan again.  How to vote?  Go to www.worldtravelawards.com/vote until Sunday October 25 and vote for Chile.
Chile seeks to position itself as a world leader in tourism in the following categories:
Leading Adventure Tourism Destination
Best Green Destination.
Best Romantic Destination, Atacama Desert.
Leading Destination 2020.
Leading Nature Destination.
Leading Festivals and Events Destination, city of Santiago.
---