About the 2020 International Branding Campaign: "Choose Chile. Where the impossible is possible"
---
France, the UK, Spain, Germany, Australia, the USA, Canada, Argentina, Brazil and Uruguay are the 10 countries where Chile is launching its international branding campaign for the first quarter of 2020, conceived as an undeniable invitation to live out new experiences.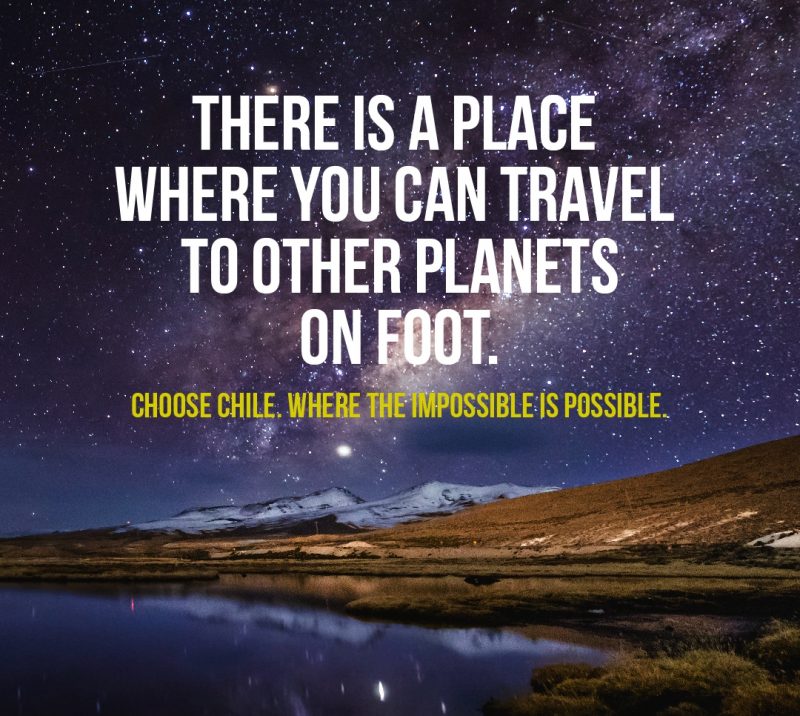 "Choose Chile. Where the impossible is possible," is the name of the multi-market campaign promoted in collaboration between the Undersecretary of Tourism and Sernatur, and which will be launched at FITUR Spain, one of the most important tourism fairs in the world, where Chile will participate with a stand from January 22-26, 2020.
The marketing campaign's primary approach implies an investment in the digital world, but will also include street advertising using digital screens installed along main avenues in the target markets.
It is a direct and modern campaign designed to inspire tourists from different parts of the world to discover in Chile new destinations, people and experiences found only at the southern tip of the world.
Click here to download the digital kit
We invite the tourism industry to collaborate with this campaign through their social media platforms and public advertising, so that together we can leverage the arrival of new tourists to the country.
---