Barbara Hernández becomes the first woman to swim unprecedented route across the Beagle Channel
---
The athlete and ambassador for the 'Welcome to Adventure Tourism' and 'Choose Chile' tourism campaigns completed the historical swim in the far south of Chile this March 1st.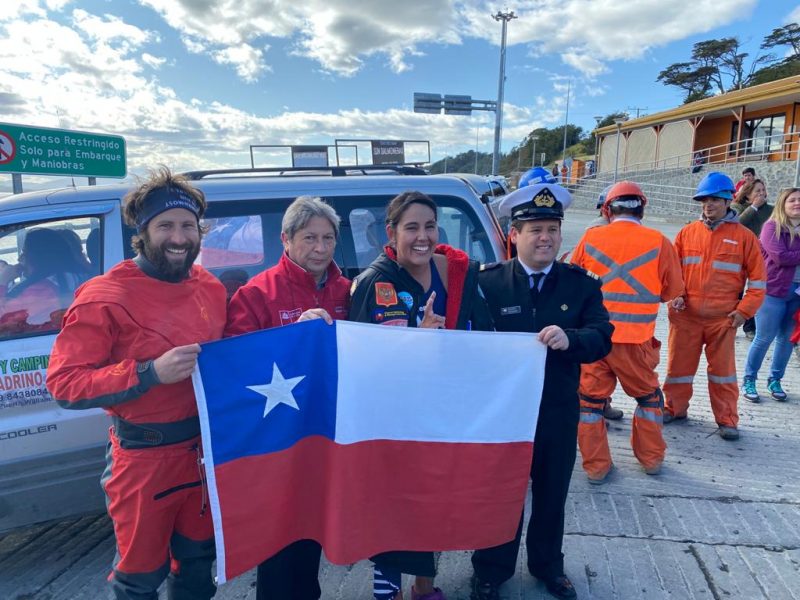 Barbara Hernández Chose Chile for one of her greatest challenges and successfully swam across the icy waters of the Beagle Channel in just under two hours, taking an unprecedented route that made her the first person to complete this feat. The athlete is also an ambassador for the 'Welcome to adventure tourism' international tourism promotion campaign, which invites visitors to tour Chile while trying out the sports that make it the leading destination for adventure tourism, according to the World Travel Awards.
The ice swimming world champion made a time of 1 hour 55 minutes while swimming across over 9 kilometers from Punta Almanza – Tierra del Fuego, Argentina – to the Puerto Williams ramp, in the Chilean Antarctica Province, which was her final goal. The Chilean athlete achieved the feat by overcoming water temperatures of just ten degrees Celsius without a wet suit, a characteristic that has earned her the nickname the Little Ice Mermaid.
Regarding this milestone, Undersecretary of Tourism, affirmed that "it is extremely important to highlight the professionalism of an athlete who has already accustomed us to beating records. The fact that Barbara has carried out this activity in the far south of our country is a source of great pride for us. In 2019, we were recognized as the Leading Adventure Tourism Destination, for the fourth year in a row by the World Travel Awards, and Barbara is an example of the adrenalin rush you can get in Chile, where the impossible is possible."
On the other hand, the national Director of Sernatur, Andrea Wolleter, stated that "Chile has a diversity of places for all adventurers and international athletes to choose from, and Barbara is an example of that. She is a great ambassador for Chile, and she chose the Beagle Channel and the southernmost province of Chile to make her newest record. The far south of Chile has stunning landscapes, where tourists can also partake in trekking, horseback riding, and kayaking."
The executive director of Fundación Imagen de Chile, Constanza Cea, noted that, "Chile is very proud of this great achievement by our ice mermaid, Bárbara Hernández. We want the whole world to know these extraordinary stories of talented and hardworking Chileans who help promote our international image. There is no challenge too difficult for Chileans, and Barbara is a testimony to this and a representative of those who are able to consistently push themselves to do better and achieve greater and more amazing feats."
Bárbara Hernández, the star of the day, exclaimed: "I am very happy and grateful to have completed this unprecedented route, which we hope to validate internationally as a new route for international open water swimmers. I am proud to be an ambassador for Chile and to swim in Chile for Chile, and above all, in the Patagonia."
The award given to Barbara adds to her first place prize in the Winter Swimming World Cup 2018-2019 and her recent recognition as the first Chilean woman to cross 37 kilometers from Dover,
England, to Calais, France, in 12 hours and 13 minutes, as part of the Triple Crown and Oceans Seven challenge.
---