Business Tourism Ambassador has been honored with the Heroines of Health award
---
Sandra Oyarzo, representative for Latin America and the Caribbean before the International Confederation of Midwives, is the first Latin American woman to be distinguished with this award given by the Women in Global Health Foundation.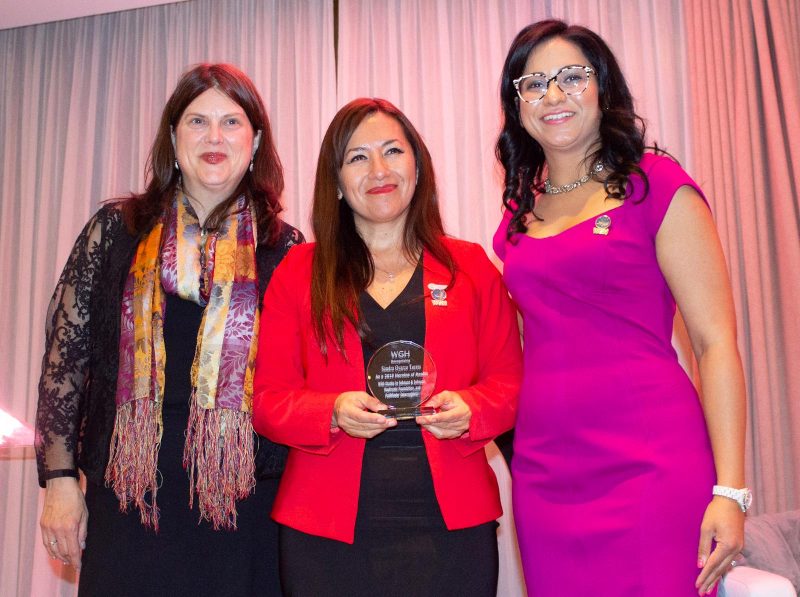 In a solemn ceremony held at the Central House of the University of Chile, on Friday, June 21, the Association of Midwives of Chile gave recognition to the midwife and vice president of the union, Sandra Oyarzo Torres, who last May received the international "Heroines of Health" award, an award granted by the Women in Global Health Foundation and personally delivered by the Executive Director of the World Health Organization, Dr. Tedros Adhanom Ghebreyesus.
The union activity was attended by the rector of the university campus, Ennio Vivaldi; the president of the University, Anita Román; leaders, academics and colleagues of Sandra, who is also an associate professor of the Department of Health Sciences Education (DECSA), of the Faculty of Medicine of the University of Chile. Sandra is also the representative of Latin America and the Caribbean before the International Confederation of Midwives (ICM), and member of the Ambassador program of the Business Tourism area Sernatur and the Undersecretary of Tourism promotes.
The president of the ICM, Franka Cadeé, starred in one of the most exciting moments of the day, when she sent a video to greet her colleague, Oyarzo. "I'm not sure if everyone realizes that this is the first time a Latin American woman has been chosen as a Heroin of Health. This is why I am deeply proud of all you have done for the midwives and women of Chile," says the world authority in the audiovisual record.
In this regard, Sandra Oyarzo stressed that it were seven women from different parts of the world who were recognized with this award. "I take this award with great humility because it really is a recognition not only to my person, but to a whole trajectory and series of people who have been with me, accompanying me in this process, but above all because it recognizes the work of women who work in the health field everyday, who often do not make their work visible," said the honored midwife.
Meanwhile, for Anita Román, president of the College of Midwives of Chile, this award "not only recognizes Sandra's professional conditions, as she represents the work that we, the midwives of Chile, have done both in Chile and abroad. It has been very important for the ICM because Latin America is usually an invisible continent in these activities because it has better indicators than Africa ".
---