Chile grows as an ideal destination for meetings, incentives, conferences and exhibitions tourism for organizations from the United States.
---
Under the backdrop of the national colors and typical treats, Chile will be part of an industry fair for tourism, IMEX America 2019, which meets from 10 to 12 September in Las Vegas.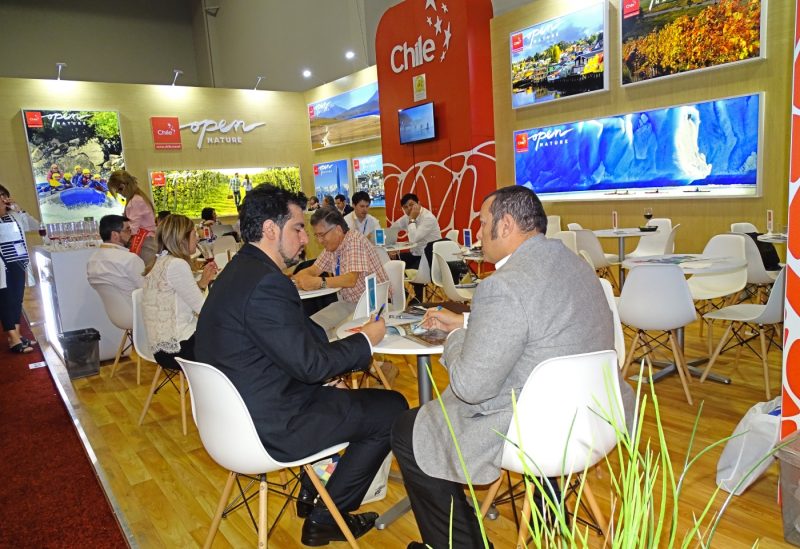 With an open bar of Chilean candies, a video wall with images of the whole country, and the three national colors underlying our patriotic anniversary and celebrations, Chile will be present at IMEX America 2019, an industry fair for meetings, incentives, conferences and exhibitions tourism to take place on the 10, 11 and 12 of September in the city of Las Vegas, United States.
This new international instance seeks to promote Chile as an ideal destination for business tourism. Here, our country's participation includes eight national companies that will meet with hotel representatives, congress organizers, and members of international boards of directors from over 150 countries represented at the event.
IMEX America is an exclusive meeting of professionals, and Chile is no exception.  Opportunities for astrotourism, adventure tourism, and the wine routes available nationwide will be on offer, in addition to destinations and services prepared to meet the particular demands from congresses, international events, and incentive travel.
PROMOTING BUSINESSES
The Undersecretary of Tourism, Monica Zalaquett, stressed that "this fair is one of the most important meetings of the tourism industry in the United States, so our presence here is key to promote us as a safe and attractive destination for business tourism. This niche is growing exponentially: currently, it represents more than 10% of foreign tourists arriving in Chile."
The authority added that "during 2018, Chile received 109 international congresses, ranking fourth in Latin America according to the International Association of Congresses and Conventions (ICCA) ranking – our already excellent position can be leveraged to even greater possibilities to grow in this area."
Regarding the participation of representatives of the country in IMEX America, the national director of Sernatur, Andrea Wolleter, emphasized that "these networking and business meetings for the national tourism industry give us the opportunity to directly sell our attractions in the United States, from which we received 222,355 tourists in 2018."
For the director of Sernatur, this important MICE fair allows Chile to "show off the work of the 14 convention bureaus that are distributed all over Chile, which are are a fundamental work network to attract new MICE businesses to each one of our regions".
The ninth edition of IMEX America will bring together more than 3,500 suppliers from all sectors of the global meetings industry and connect them with suppliers from the United States and other countries, tourist offices, convention offices, major hotel companies, conference and exhibition centers, cruise lines and airlines, spas, technology providers, event management specialists and many more. In addition, there will be more than 180 MICE tourism training meetings, one-on-one meetings and talks on new technologies associated with tourism.
---