Chile in Colombia: The Country Looks to Attract Visitors at the Anato 2020 Tourism Showcase
---
From February 26th to 28th, Chile will participate in Colombia's largest tourism event aimed at travel industry professionals.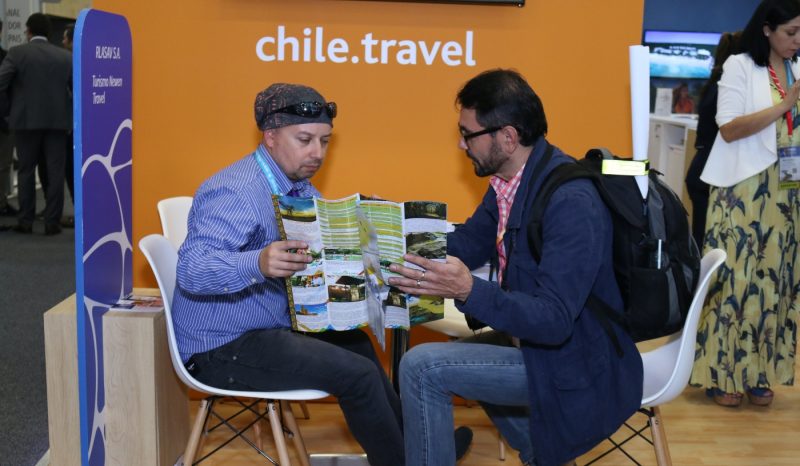 Chile has become a highly attractive tourist destination for Colombians: just last year, we welcomed 131,818 tourists from the country, with peak arrivals between April and September. Chile is hoping to continue increasing these figures with its participation in the newest version of the Anato 2020 Tourism Showcase.
From February 26th to 28th, at the professional business fair held in Bogota, Chile will host a stand covering over 70 square meters that it will share with the Biobio Region and seven private companies, including one airline and tour operators that offer nature and adventure tourism experiences.
Moreover, as an innovative way to promote the country's attractions, the stand will include an activity called The Travel Cabin, which consists of a transparent dome that uses air injection to make fake Chilean bills fly in the air. These can be exchanged for prizes, including airfare to Chile.
The Undersecretary of Tourism, Monica Zalaquett, affirms that "Colombia is a strategic market for our country. In 2019, around 132 thousand Colombian visitors came to Chile to discover and enjoy the diversity of our natural landscapes and the wide variety of tourism opportunities available in Chile, which has consolidated itself internationally as an adventure and nature tourism destination. The objective of our participation is to promote our destinations and to continue to fascinate Colombian travelers with everything Chile has to offer."
For the National Director of Sernatur, Andrea Wolleter, this international event is fundamental to the country's promotional tour, as "Anato represents an excellent chance to promote Chile directly with travel agents, tour operators and the specialized press. In addition to presenting the destinations most preferred by Colombians, like Santiago, Valparaiso, Puerto Varas, San Pedro de Atacama and Valle de Elqui, we will also promote new attractions that have helped us become the Leading Green Destination in the World according to the latest World Travel Awards."
2020 Tourism Showcase
The Colombian Association of Travel and Tourist Agencies presents the thirty-ninth annual Tourism Showcase, the most important tourism event in Colombia, which year after year has managed to establish itself as the most important space for buyers and sellers of tourism products and services.
This year, in the city of Bogotá, the fair will also be a chance for tourism networking, where Chile is looking to promote the new airline routes connecting it to Colombia, particularly those offered by low cost airlines, which will allow a greater availability of seats and higher frequency this year.
The Tourism Showcase will bring together 36 countries and over 39 thousand participants, whom Chile hopes to win over with traditional food and cocktail tastings at its stand. In addition, on Friday February 28th at 7:30 am at the Hotel Hilton in Bogota, a breakfast will be held with the Colombian
commercial channel to introduce the new international tourism promotion campaign entitled "Chile, where the impossible is possible." The event will be led by the Chilean ambassador to Colombia, Ricardo Hernanez.
---