"Chile Virtual Expo Tourism": 100% digital trade show will connect our country's exportable tourism with the international trade chain
---
The event will be held on June 8 - 10 and will be accessible from anywhere in the world, free of charge, and just one click away.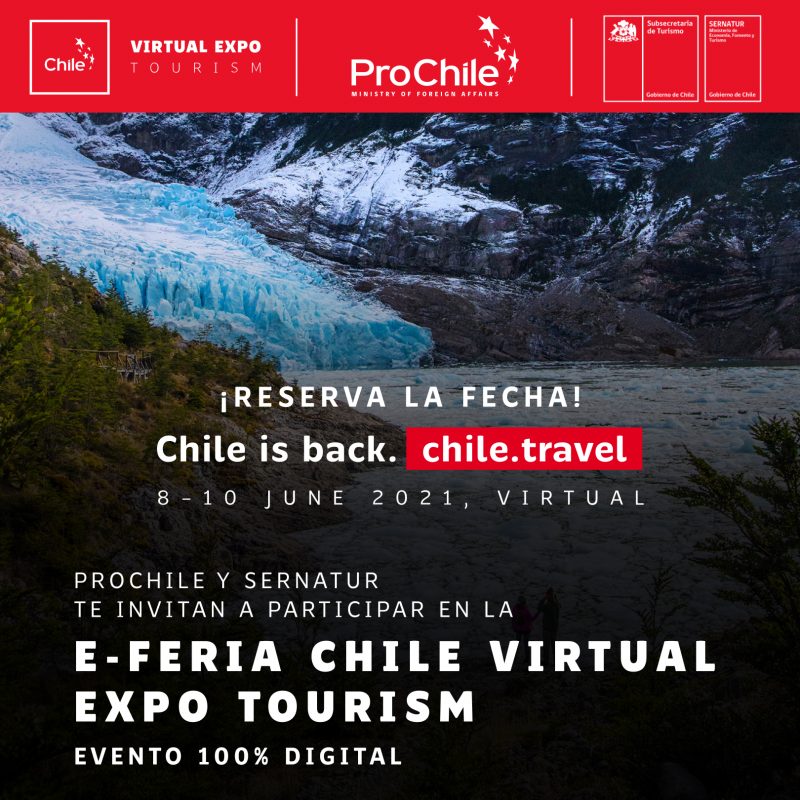 The "Chile Virtual Expo Tourism" trade show, is a 100% digital event born from the alliance between Sernatur and ProChile that will showcase our exportable domestic tourism to international guests, generating a space for commercial interactions that will take place on June 8 – 10.
This free event will bring together outbound tour operators from different countries ant its main target will be priority markets, travel agents, and travel advisors, creating networking opportunities and facilitating spaces for new business, thus providing visibility to both experiences and domestic destinations.  Additionally, the initiative will maintain the link established with international markets and tourism promotion actions that our country has carried out for years.
Andrea Wolleter, national director of Sernatur, referred to the importance of the Chile Virtual Expo because "it is the first multi-market digital trade show that we will have during this semester in the country.  We must seek a reactivation for when health conditions allow it and, in these times, joining the global trend of virtual events is more than required to protect everybody's health.  This will be a space for trade interactions for our exportable tourism offer, where domestic providers and operators will be able to network and find opportunities for new businesses."
Who will be invited to the "Chile Virtual Expo Tourism"?  The professional industry part of the commercial chain of main priority markets such as Brazil, Argentina, United States, Spain, France, Germany, and England.  The invitation will also be extended to the tourism industry in markets such as Peru, Colombia, Canada, Mexico, China, and Western Europe.
The event
Within the trade show each exhibitor will have access to a virtual stand to showcase its exportable offer through videos and product catalogs; additionally, the exhibitors will be able to chat with visitors 24 hours a day.
Due to the current sanitary context, "Chile Virtual Expo Tourism" expects to host up to 200 virtual stands, which will be divided between the Regional Directorate of Sernatur, stands for regional entrepreneurs including Convention Bureaus, and key institutions for sector development.  The stands will be allocated – as in a regular trade shows – to 4 pavilions that will be organized as follows:
Pavilion 1: Northern Chile and Atacama Desert (Arica and Parinacota – Coquimbo).
Pavilion 2: Santiago, Central Valleys, and Rapa Nui (Metropolitan Area – Maule).
Pavilion 3: Southern Chile, Lakes, and Volcanoes (Ñuble – Los Lagos).
Pavilion 4: Patagonia and Chilean Antarctica (Aysén – Magallanes).
Pavilion 5: Domestic Suppliers (Focus, tour operators that market domestic tourism).
Pavilion 6: Institutional (Chile Travel, ProChile, Enotourism Chile, among others).
Lastly, the target of this digital initiative is to pave the way for the recovery of tourism in Chile as a priority axis of the economy, where our country plays a key role with countless destinations and experiences to offer to the new post-pandemic travel trends.
---