Chile will be presenting its touristic offer in five Brazilian cities in this year´s Roadshow Brazil
---
Roadshow Brazil 2019 is a business tour that will take place in the Brazilian cities of Belo Horizonte, Recife, Sao Paulo, Curitiba and Brasilia, where 37 Chilean tourism companies will be presenting the best of Chile´s tourism industry in Brazil.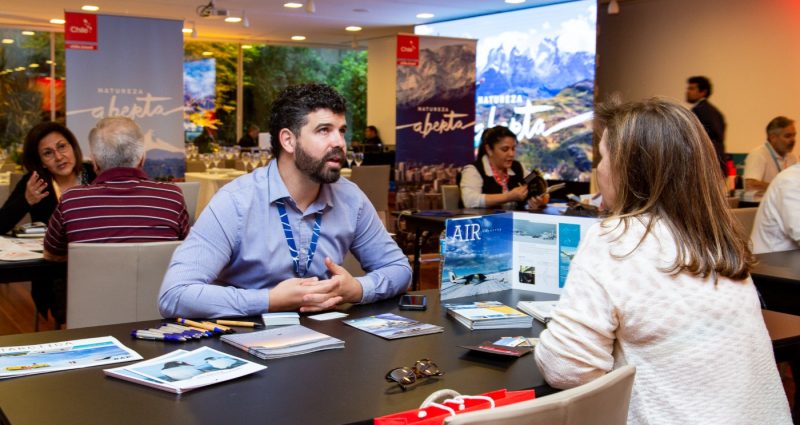 Poems, speeches, and a performance by an actor who will reincarnate the figure of Pablo Neruda, Nobel Prize winner in Literature, are some of the surprises that the guests will experience in this year´s Roadshow Brasil. The tour will present a number of Chilean destinations, attractions and tourist services in five cities of Brazil between October 14 and 22.
This exclusive exhibition, aimed at operators, travel agencies and specialized press in Brazil, will travel to the cities of Belo Horizonte, Recife, Sao Paulo, Curitiba and Brasilia, with a delegation of 37 Chilean companies, who will hold one-on-one meetings (B2B) with Brazilian tourism industry representatives. The initiative hopes to generate new commercial agreements, business relations, and networking between the two countries.
Tourism Meetings
Monica Zalaquett, Undersecretary for Tourism, stated that "Roadshow Brazil is one of Chile´s direct marketing actions for the promotion of tourism in one of its priority markets, which will allow the Brazilian industry to be better informed about the Chilean attractions and, therefore, generate business between both countries. In 2018, close to 590 thousand tourists came to Chile from Brazil, which represented an increase of 8% over the previous year. This event hopes to increase Brazilians' interest in visiting and touring Chile".
Along the same lines, National Director of Sernatur, Andrea Wolleter, said that "this tour will provide Brazil´s tourism industry with better tools to promote Chile in their tourist packages and include new Chilean destinations in their offer. Our country has become one of the favorite spots for Brazilians, and therefore, we hope to continue enhancing the experiences that they demand the most, highlighting our natural wonders and the best of our adventure tourism, which has Chile competing once again in the World Travel Awards. "
Roadshow Brazil 2019 will seek to boost the experiences that are available to tourists in relation to astrotourism, gastronomy and wine, urban life and nature, and everything that can be done in Chile, and they will at place in six business meetings, which are scheduled as follows:
October 14, Belo Horizonte.
October 16, Recife.
October 17, Sao Paulo.
October 18, Sao Paulo.
October 21, Curitiba.
October 22, Brasilia.
---