Felipe Narbona, CEO of Ecomapu: "We wanted to show this more distant heritage"
---
The CEO, a commercial engineer and bilingual tour guide, tells us about Ecomapu's sustainable, inclusive, participatory, and ecological nature to show Valparaíso to travelers.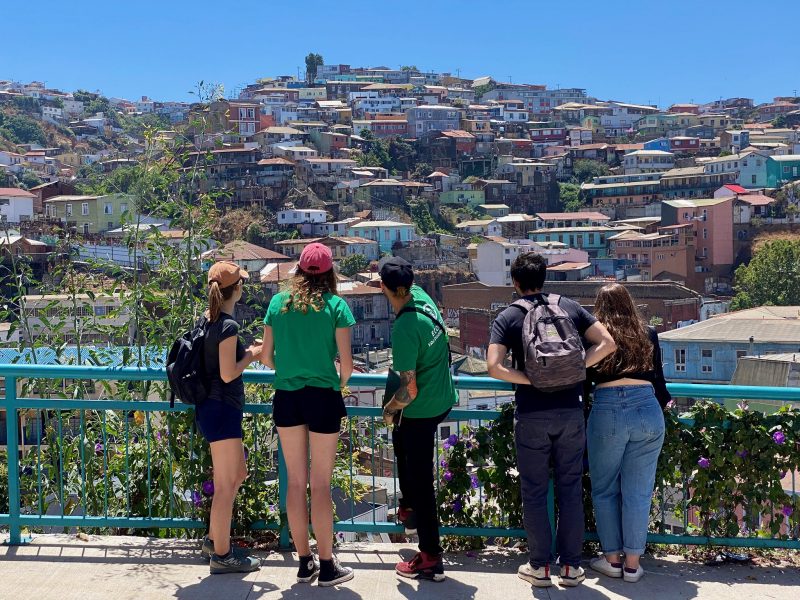 The Ecomapu tourism company showcases Valparaíso's heritage from a new, sustainable, and genuine perspective.
With their nature, heritage, and creative tours, they deliver an unforgettable experience and show unknown aspects of the Jewel of the Pacific.
On this matter, Ecomapu's CEO and tour guide, Felipe Narbona, says that they settled in Valparaíso after the earthquake in Chile in 2010, to "carry on with the social activity and cultural tourism", which they once had developed in the valleys of Cachapoal and Colchagua.
"We wanted to showcase this more distant and somewhat unknown heritage that goes beyond the material heritage, but in some cases has to do with experiences that took place more than 100 years ago," he said in an interview with Chile Travel's TradeNews.
-What routes do you operate in Valparaíso?
-These are experience routes focused on Valparaíso's cultural heritage, but mainly focused on the local communities. We started in Cerro Playa Ancha, adding value to the local trade in the Playa Ancha avenue, in addition to the architectural heritage of this hill in Valparaíso. Around that time, talking about mid-2013, it was an area far from the traditional tourism that was concentrated in Cerro Alegre and Cerro Concepción.
-Do you feel that you have achieved an effect of committing to the heritage and preservation of Valparaíso?
-Yes, absolutely. For us, Playa Ancha was the start because in 2015 we leapt into developing community tourism in Cerro Santo Domingo and Valparaíso's Barrio Puerto, which were two other areas of the city that were far away from tourism at the time. We worked with the residents of the neighborhood to create Chile's first community tourism zone, as community tourism had previously only been developed in indigenous areas in the south and north. What we did here was to turn the proposal around to integrate an urban environment beyond the material historical heritage, entering into the identity of the Porteños and Porteñas who live here.
-Why do you declare yourselves a sustainable tourism company?
-We consider three dimensions of sustainability: environmental, social, and economic. We work mainly on the social and economic dimensions that have to do with the enhancement of Valparaíso's intangible heritage. For example, 100% of the suppliers we use are local, which means they are associated with restaurants if there is something to eat, typical places in the port district. In addition to integrating Valparaiso families in ways that they can also be part of the economic chain of tourism, we work with local tour guides who are rooted in the city, and we also value the flora and fauna that that are still present in the spot.
-Do you recycle as well? How do you encourage this action?
-We promote recycling through our collection center or by implementing energy efficiency measures and transmitting this awareness through an NGO we created with the neighbors of Cerro Santo Domingo called Cerros Nativos to promote environmental care and development. One of the great problems that we know Valparaíso has, is the management of its waste, and if we can be a contribution or a grain of sand, we will do it. What we want is to encourage tourists to deposit plastic at a plastic collection center and to promote the reuse of bottles, which are one of the most common items used by tourists. For this reason, we have enabled the restaurants and houses we work with to refill water bottles on the tours.
-What other experiences does Ecomapu offer?
-In 2018, we launched the "Platos con Relato" experience, which values the food prepared in the port with four "picadas" in Barrio Puerto, including Valparaiso's oldest bar, Liberty, to demonstrate not only gourmet cuisine (…) Another of the routes we have today is "Valparaíso con guitarra," which is associated with creative tourism and where we work with local musicians, specifically Claudio Lascano, who is a local musician.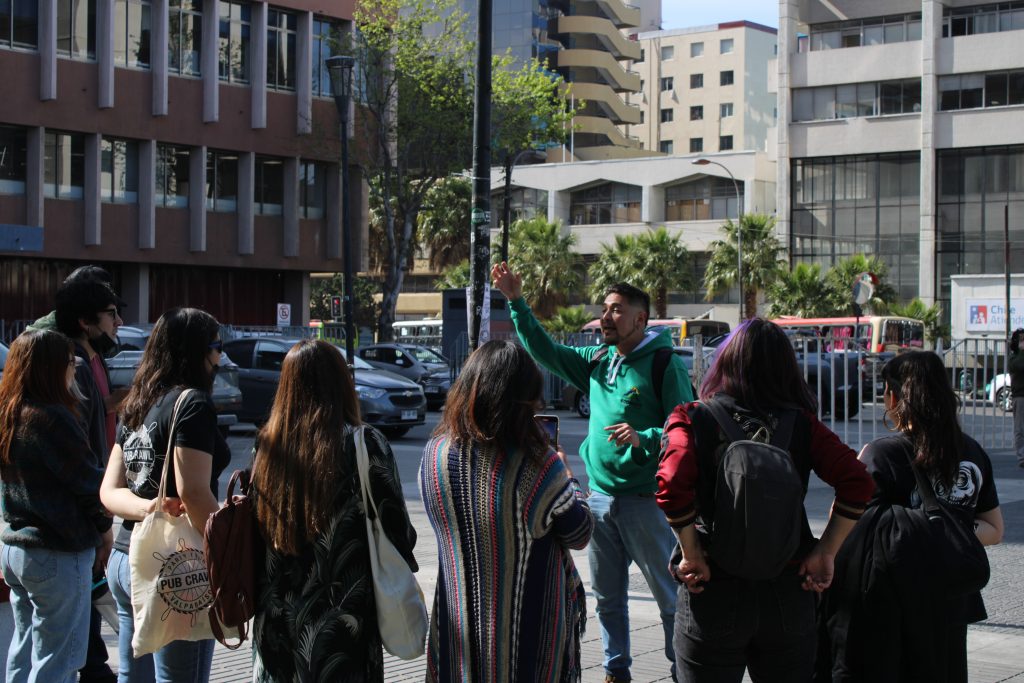 Education about community life and sustainability is central to Ecomapu. Photo: Ecomapu
One of the central aspects that define Ecomapu's work is being able to present this new face of Valparaíso to travelers, which is why they offer free tours. These tours can be taken free of charge with a suggested tip for the tour guides, who explain everything to tourists in Spanish, English, and French.
-What do the Free Tours consist of?
-The free tour operates on a no-cost or tip-based basis. This model is very old. It was born in Europe some time ago. What we wanted to do with our first Playa Ancha free tour was to make sure that tourists visiting Valparaíso could get to know more about the port than just Cerro Alegre or Cerro Concepción in a way that was accessible to everyone.
-Are they free of charge?
-There is a suggested tip, but it is designed so that each tourist can contribute according to their budget and consideration. This tip is for the guides who carry out the tour in three languages, which are: Spanish, English, and French.
-What destinations do you show?
-The idea of the free tours is to make a route accessible and to promote the destinations we want to showcase, which at present are Playa Ancha, Barrio Puerto and Cerro Cordillera, in order to show the "other Valparaíso," which is more intimate, genuine, and values the local community through its heritage, food, and music, and which ultimately delivers a completely new perspective on the city.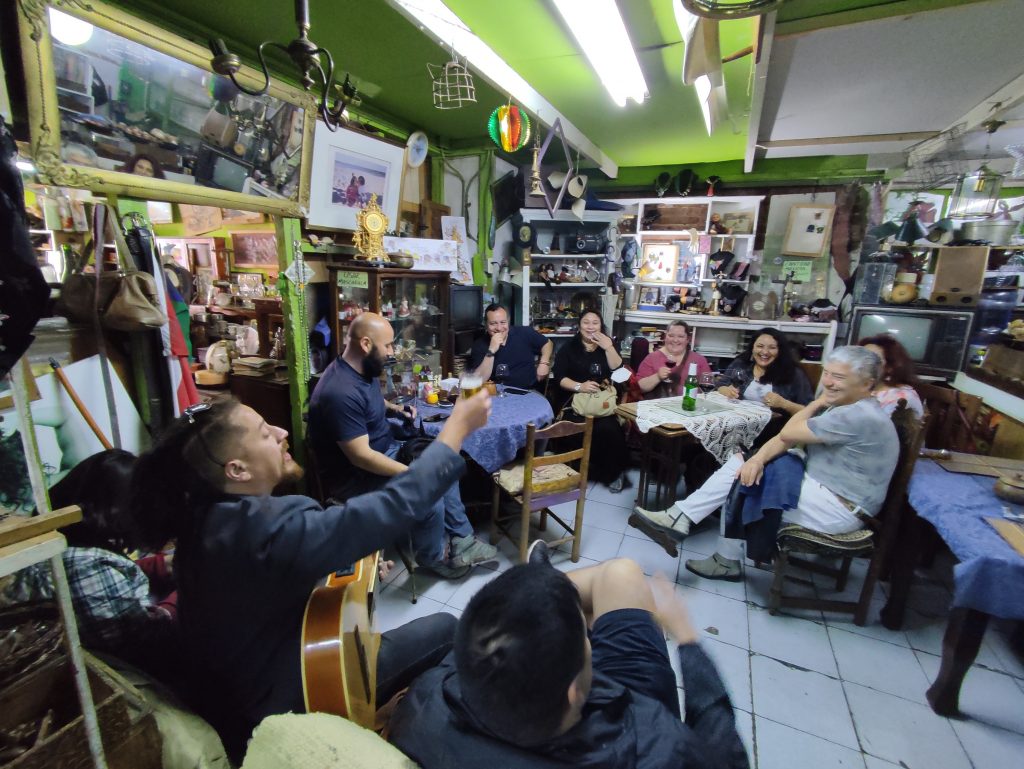 Some of Ecomapu's free tours require prior registration. Photo: Ecomapu.
---
Ecomapu Felipe Narbona Free tours