FITUR LIVEConnect 2021: Chile prioritizes virtual attendance for the most important tourism trade show in Ibero-America
---
Due to the health contingency the International Tourism Trade Show 2021 (FITUR) created "LIVEConnect", -conceived as the largest professional network for the tourism sector- which will allow our country to digitally connect with important international buyers searching new travel experiences, once international traveling resumes.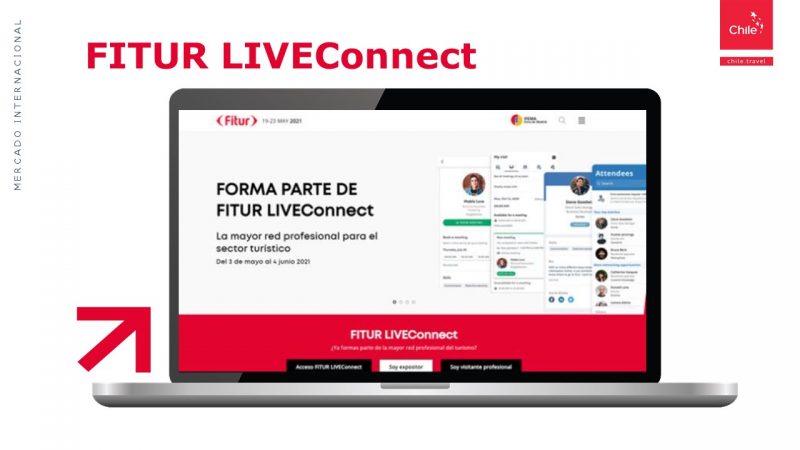 With the aim of providing continuity to the historical promotional activities in the Spanish market, Chile will favor a virtual participation in FITUR 2021 along with 30 co-exhibitors that will help maintain business relations with the destination, thus ensuring the health of entrepreneurs due to the complex sanitary context.  The nature and adventure multi-destination experiences will be the focus of this innovative participation format.
The "LIVEConnect" digital tool, provided by IFEMA (Trade Fair Institution of Madrid), will be available from May 5 to June 4, and will be the meeting spot for all professionals of the tourism sector, creating a space for networking, training, promoting, networking, business opportunities, and in general, for all those that make up the industry's value chain.  Additionally, this platform will have a web version and an application version for cell phones, thus facilitating the connection and accessibility to the event.
Chile will also have a reduced presence in the fair's physical format, stand 3E06 in pavilion 3, with the team of Spain's representative agency, who will be servicing participant requirements between May 19 and 23 in Madrid.
With a historical participation record in FITUR, our country was present during the last version (January 2020) where the International Promotion Campaign was launched under the "Chile, Where the impossible is possible" slogan.  Said campaign addressed several strategic lines from a public policy and promotional standpoint, including the development of new destinations, products, and tourism services with sustainability as the driving force.
Sernatur's national director, Andrea Wolleter, valued this virtual instance "mainly because it is a current trend and allows us to remain in contact with representatives of the global tourism sector and show our attributes to maintain our position in international markets, thus fulfilling the task of providing visibility to Chile's destinations and experiences."
---