International press trips: European journalists were deployed in the Los Lagos Region for 7 days
---
During February and up until now in March, different journalists and influencers have traveled around our country portraying the best of each destination.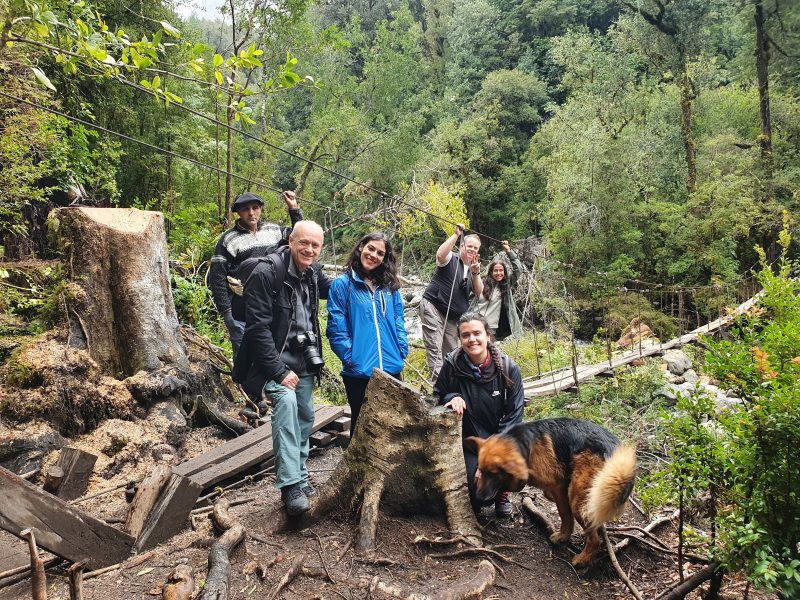 For seven days a group of three European journalists were touring and exploring the Los Lagos region, where they were able to visit different National Parks in the south of our country from 28th March to 6th April. Furthermore, a well-known Spanish blogger had the opportunity to visit the Araucanía Region and live an experience full of adventure, gastronomy, and relaxation.
The group was made up of Isabel García, a Spanish journalist from "El Mundo", Carlos Zapata, a Spanish journalist who collaborates with travel media such as "Viajar", "La Razón" and "Hola Viajes", and Sven Klawunder, a German journalist who conducts independent reports and interviews for major private television channels in Germany.
The trip began in the Alerce Andino National Park, where they went on a guided tour of the park, in which they were able to see the local flora and fauna, as well as being in direct contact with the millenary nature of the park. Over the following days, they enjoyed activities such as fishing in Tagua Tagua Lake, living a unique experience in the Termas del Sol hot springs, visiting the Petrohué waterfalls, and trekking in the Vicente Pérez Rosales National Park. The journey ended in Santiago, where the journalists were given a tour of the Cerro San Cristobal.
Birratour – Spain
Estela Gómez was the winner of a ticket to Chile at the "Birratour" fair, which is the biggest travel bloggers' event in Spain.
During her visit to Chile, she visited the historic center of Santiago. She then headed to the south of Chile where she climbed the Villarrica Volcano, did rafting on the Trancura River, and had a well-deserved rest at the Termas Geométricas hot springs.
Estela is a Blogger who has been in the travel niche for several years. In 2012, she created her blog "Viajes e ideas" ("Travels and ideas"), where she has since shared her travels and has been a member of "Castilla y León Travel Bloggers" for many years. Apart from writing her adventures, she had always intended to do something else to help other women overcome their fears and embark on solo travel, until early October 2018 when her idea became a project and started to materialize.
---