MICE tourism distributes new marketing tools to reactivate the industry
---
According to the ICCA Ranking through 2019, Chile was the fourth country in Central and South America that attracted the largest amount of congresses and seminars. A privileged status that our country seeks to maintain despite the serious consequences generated by the COVID-19 health crisis worldwide.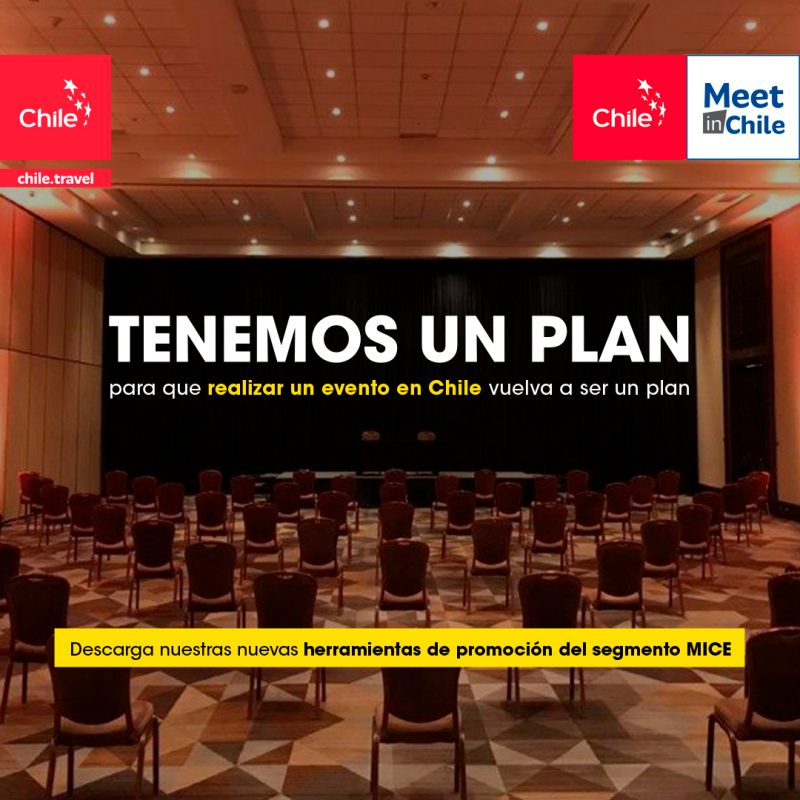 This is why the Undersecretary of Tourism and Sernatur made available to the entire local tourism industry, Convention Bureaus, and organizations a digital MICE kit to support the early revival of tourism from Arica to Punta Arenas.
The kit's content, "We have a plan, so that holding an event in Chile becomes once again a plan", which aims to restore the confidence of organizations and event organizers in our country, includes:
A video with cities, experiences, and tourist services that Chile has to welcome delegates from all over the world. Content that will soon be available in English and Portuguese.
A presentation in two languages with information on safety measures, air and land connections, and hotel availability, among others. Thus showing why our country is leader in organizing congresses in Latin America.
Other documents, that aim to boost the reactivation of MICE events, are the Covid Good Management Practices Guide, which is available in three languages (English, Portuguese, and Spanish), and the Chilean Incentive Travel Guide, which is expected to be launched in the coming months.
Regarding online actions, both the Chile.Travel and Chile es Tuyo websites included a special section on MICE Tourism to reinforce the Convention Bureaus available in the country and content of interest for the industry.
Lastly, to stay informed on all the industry news, those interested can visit the TRADE News Meetings Tourism website where important news for this segment of tourism is published every week or follow our MICE accounts on Linkedin, Twitter and Youtube channel where there are different videos on the segment and the cities of Chile that have all the services to welcome congresses and incentive trips.
Download the MICE Kit HERE
Follow our social networks:
Twitter @meetingsChile
Linkedin: Meetings Chile
Youtube: /chiletravelMICE
---