National pisco tastings and virtual reality experiences are the fare Chile brings to France
---
The regions of Los Lagos and Magallanes and 13 national tourism entrepreneurs represent our country as part of IFTM Top Resa, a global travel industry convention held in Paris.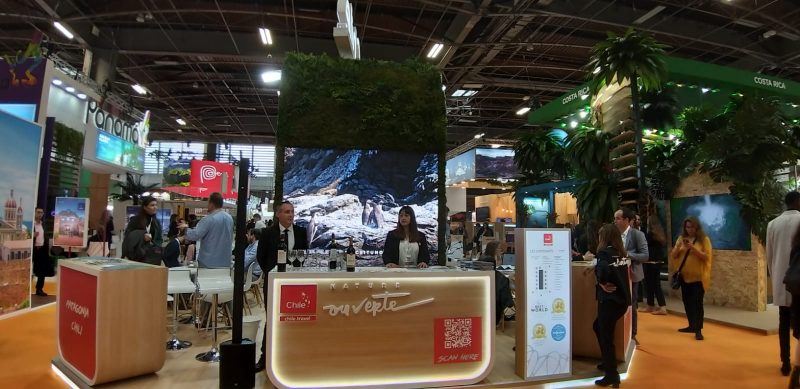 Astrotourism, gastronomy, wellness, nature, and heritage are the experiences to be promoted by Chile at the 2019 IFTM Top Resa Trade Show, taking place in the city of Paris, France, from October 1st to 4th.
This meeting, where the services and programs dedicated to the global tourism industry (including business, events, and leisure) are shown off welcomes Chile with an 80 square meter showroom space. Here, the regions of Los Lagos and Magallanes and 13 national companies will highlight the best they have to offer.
In the City of Lights, Chile will dazzle with its bill of fare: live shows; Chilean pisco pairing and select aged pisco tastings; and virtual reality accoutrement for visitors to experience the beauty of the Patagonia Parks route, the magic of Chiloé Island, and other breathtaking destinations.
NUMBERS AND AWARDS
This is the forty-first edition of the B2B (business-to-business) trade show, which "is an instance par excellence to continue positioning our country in France, one of our prioritized markets from which we received 87,197 tourists in 2018, 4.1% more than the previous year," according to Undersecretary of Tourism Monica Zalaquett.
The authority added that "although our country has a globally-positioned adventure tourism brand, we are also interested in being known for the many experiences we have to offer. These types of meetings are an excellent showcase."
Likewise, SERNATUR national director, Andrea Wolleter, assures that "the 2019 Top Resa is a new opportunity to promote the diverse unique attractions that make Chile the five-time consecutive winner of the World Travel Awards "World's Leading Adventure Tourism Destination in South America". Just as the provincial cheese and wine at the inauguration, the convention will pair national products such as Chilean pisco so future tourists may taste and experience a bit of Chile in their country.
IFTM Top Resa 2019 will take place at the 33,000 square-meter exhibition space Porte de Versailles event center, expected to receive more than 34,000 tourism professionals this year. There, key buyers from the international industry will meet with representatives and decision makers from tourism offices, airlines, hotels, technology, and event production companies.
---