Spain Roadshow: Chile promotes itself in Bilbao, Valencia and Málaga
---
Chile's promotional tour seeks to train tour operators, travel agencies and the Spanish tourism industry press on the country's new destinations and attractions.
After welcoming 80,000 Spanish tourists to Chile in 2017, the Chilean government hopes to continue increasing those figures with an intensive Roadshow that will stop at 3 different cities in Spain from 23-25 January 2018.
The promotional tour is scheduled to cover the cities of Bilbao, Valencia and Málaga, and its objective is to train tour operators, travel agencies and the specialized press on the natural beauty, attractions and new experiences that Chile has to offer.
All encounters with the Spanish tourism industry will include a workshop on tourism in Chile, accompanied by traditional food and drink tastings, as well as competitions and exciting promotion activities.
During this tour, Chile will showcase the regions of Tarapacá, Coquimbo and Los Lagos, and 8 national tourism companies will provide information on the best that Chile has to offer to the Spanish market.
Javiera Montes, Undersecretary of Tourism, highlighted Chile's presence in Spain during the past few weeks and stated that, "for our country, it is extremely important to make ourselves known, not only in Madrid, where we participated in FITUR 2018, one of the most important Ibero-American tourism fairs, but also to promote our tourism destinations and offering in other cities around Spain." She added that, "this Roadshow is expected to help increase the number of Spanish tourists that will visit Chile in 2018."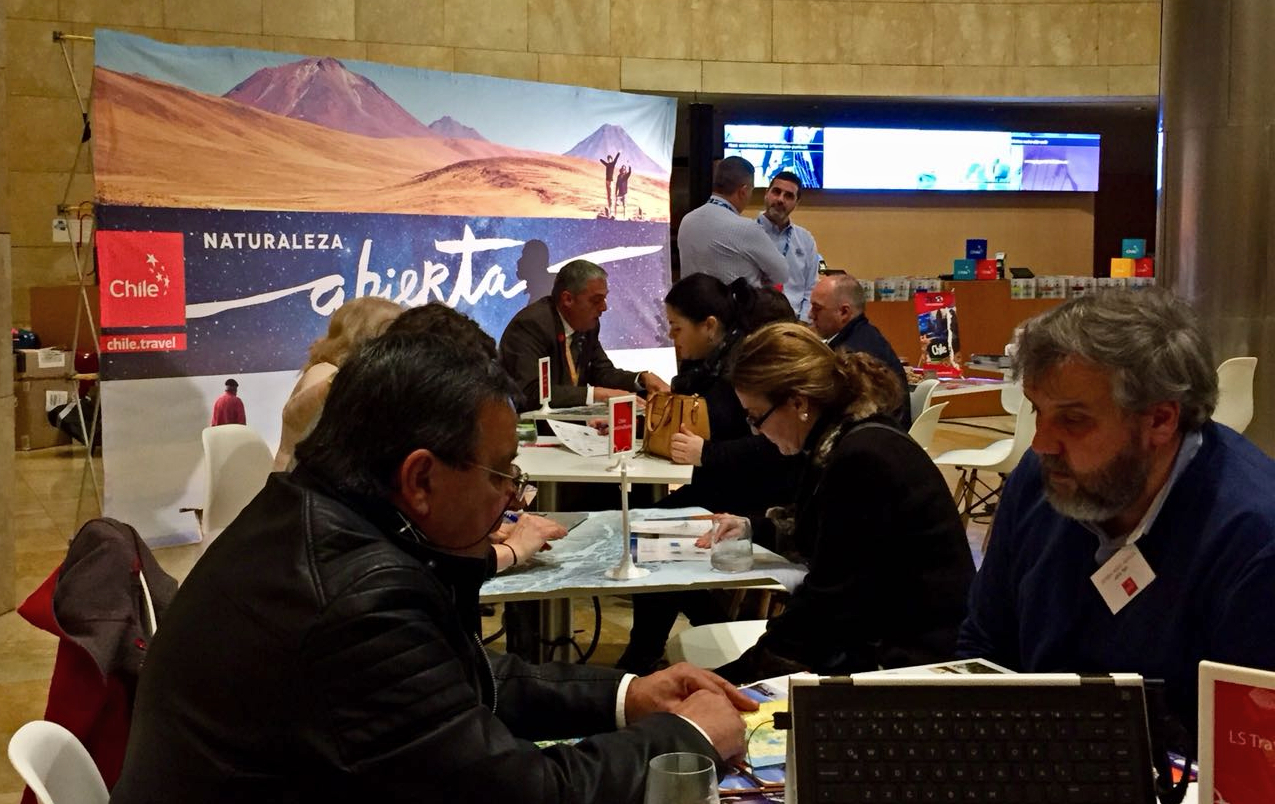 The National Director of Sernatur, Marcela Cabezas, also ensures that the Spain Roadshow, "goes hand in hand with our promotion of Chile at FITUR 2018, and it is aimed at solidifying Chile as a top world destination, according to the most recent recognition by Lonely Planet Travel 2018. Both events are essential to increasing not only tourist stays and expenses, but also the distribution of tourists at destinations across the country."
The Roadshow will kick off on Monday, 22 January, in Bilbao, at the Guggenheim Museum; on Tuesday 23 it will land in Valencia at the City of Arts and Sciences event center; and finally, on 25 January, Chile will take the stage at the Los Patios de Beatas in Malaga.
REGIONAL ATTRACTIONS
The 3 regions participating in the Spain Roadshow will showcase a number of attractions and activities that are expected to seduce the European market.
Tarapacá will promote community tourism in the Highlands, offering travelers the opportunity to go beyond traditional travel and participate in experiences that will heighten the senses and blow their mind. Its presentation will highlight the beauty this area has to offer.
Astro tourism will be the winning ticket for Coquimbo, known for having the largest network of tourist observatories and star gazing services in the Southern Hemisphere. Combined with a number of outdoor activities offered at the Fray Jorge National Park, a UN Biosphere Reserve and Starlight Reserve (Starlight Foundation), the region has positioned itself as a solid tourist destination.
Meanwhile, the Los Lagos Region will promote Green Patagonia, where lakes and volcanoes come together in a single place to attract lovers of outdoor activities and extreme sports.
---