The Tourism Under-Secretary signs an agreement with the biggest China travel service provider
---
Within the Chile Week activities in Shanghai, Mónica Zalaquett, Under-Secretary, signed a strategic agreement with Ctrip travel company to encourage the arrival of tourists from China, the country with the biggest abroad travelling expense.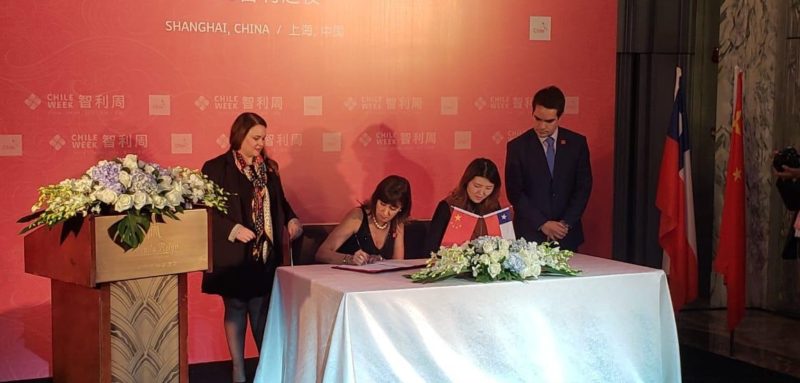 Within the activities of the Chile pavilion at the National Exhibition and Convention Center in Shanghai, Mónica Zalaquett, Tourism Under-Secretary, signed and important strategic liaison agreement with Ctrip, considered China's main travel company, leader in hotel accommodations, flight tickets, tourism packages and corporate travel management.
As pointed out on the document signed by Zalaquett and Amber Chang, Ctrip representative, the agreement looks forward to establish a strategic liaison to make Chile one of Chinese tourists preferred destination. Also, it established the goal to increase the promotion of Chile as an alternative for Chinese consumers through this strategic liaison and take advantage of both organization's touristic advertising channels.
After signing the agreement, Zalaquett said: "Ctrip is a company that works as a world-wide example of the online travel market growing in China and all the Asia-Pacific region. Thanks to its platform that offers more than 50 thousand hotels around the globe and its association with other global market leaders as Booking, we can take our destinations offer to millions of travelers around the world".
The tourism authority added that "China is one of our strategic markets due to the big expenses tourists coming from there make, they spend an average of US$1,700 on their visits to the country. The great relevance this company has for corporate travels management of Chinese tourists is a major opportunity for Chile, Ctrip provides for 300 million of business tourists. That's why Chile Week in China is an amazing platform to show to different features our country offers and rise it as world-class destination".
According to the Tourism Under-Secretary data, China has tripled its arrival to the country in the last 5 years, reaching 30,774 in 2017. Also, a 50% of Chinese tourists visit us on business, so our government's bet is to grow on this area as much as on the recreational tourism area, because Chinese outbound tourism has increased on a 7% in the last year and it is expected to reach 220 million travelers in 2025.
Lastly, it is worth mentioning that currently China is Chile's main trade partner and during the last decade it has quadrupled the trade Exchange, reaching US$34 thousand million in 2017.
---